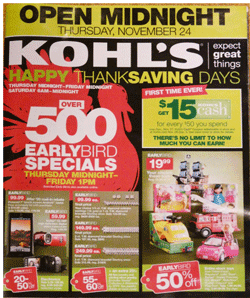 Ads from JC Penney, Walmart, Target, Kohl's, & IKEA

So, I went Black Friday shopping this year.
Scoff all you want; I used to be a naysayer, too--well, at least a naysayer to waking up at the crack of dawn to be pushed around by a sea of money-saving maniacs. Sure, I'd go shopping the day after Thanksgiving and try to see how many three-dollar DVD's I could snag, but I didn't really put a lot of stake on getting there early enough for the really good deals. In fact, I was way more used to browsing the empty shelves and wishing I wasn't one of the lame people who needed sleep more than they needed a ten-dollar Blu-Ray player.
But this year was different. motivated by my sales-ad-studying husband and his plan to win over the town in a shopping extravaganza, I agreed to a night of deal-hunting. And so, once our food had digested for the third time Thanksgiving evening, we hopped in the car and went to stand in line (and by that, I mean we hopped in the car, went to Wal-Mart and ran away because the parking lot was filled to capacity, drove to Target, then back to my parents' house for hot chocolate and scarves before driving back to actually stand in line outside of Target).
Our evening started pretty well. While waiting for Target to open its doors, Brad actually ordered the Kinect we were in line for on his phone--with a credit we had earned on Amazon, it was $20.00 less than everywhere else. Check.
Left: Brad waiting in line outside of Target
Right: Chocolate peppermint LUNA energy bar (we were given these while standing in line).
Clever wrapper reads: "Don't drop while you shop! . . . Happy Holidays from LUNA!"
By the time we moved up in line, there were cheers, line cutters, and lost gloves (one lost glove) galore. As soon as Brad, his sister, Jessi, and I made it inside the front doors, we ran across the store to our desired stations. And yes, Jessi and I almost wiped out into one another, but it was hilarious and fun and exhilarating all at once.
Target sometime after midnight.
Just walking through the store was near impossible, and the line to check out wrapped through every grocery and bathroom supply aisle, around the back of the store, and back to the front. It's a wonder we ever got out.
Now, the reason I participated in this huge shindig of pure "Christmas spirit" is probably rooted deeply in the fact that I was extremely curious to see exactly how crazy people would actually get. It was something fun to do with a group of people, but if I had gotten my heart set on being first in line for an uber-cheap TV, I might have literally had a panic attack.
The truth is, if you're like everyone else who owns a television and have been seeing sales ads left and right lately--Black Friday, Doorbusters, Cyber Monday, and now, Small Business Saturday--you've no doubt either built up an intolerance to the persistent reminders (like the horrible Kohl's
"Black Friday" spot
, parodying
Rebecca Black's "Friday"
) or an underlying desire to see just what all the fuss is about. Either way, retailers and their campaigns to get "
out of the red
" this time of year have redefined the unofficial start of the holiday shopping season--and it just keeps getting bigger and bigger.
Kohl's - "Black Friday"

I will never forgive Kohl's for putting this on my TV.
Justin Bieber for Macy's - Black Friday

This one's actually pretty good. All Biebers aside.
So, what I want to know is:
- Are you a Black Friday pro, staying up all night to elbow anyone who gets in your way,
- A casual deal hunter, who will put up with the crowds on Friday afternoon and Saturday morning just to catch a glimpse of what's left in the war zones,
- An internet junkie, navigating Amazon and SlickDeals.net to show every sucker standing out in the cold how shopping's really done, or
- Completely separated from sales all together, either too terrified or indifferent to venture out during the most highly-marketed shopping weekend of the year?
I wonder how long it will be before we're just sitting on the sidewalk outside of Best Buy, eating our Thanksgiving meals off of paper plates. Oh, wait--I have proof that someone already did that.
(Thank goodness for camera phones, no matter how blurry their deliverables may be.)